In St. Paul's Church there is an anchoress' cell where Blessed Osanna stayed. She is the first woman to be formally beatified in the Catholic Church, coming from Montenegrin territory.
Blessed Osanna was born on 25th November 1493 in the village of Relezi (around 16 km east of Cetinje in Lješanska nahia) to an Orthodox family, under the name of Jovana-Joše Đujović, and baptized as Katarina (Kate), and according to some sources having the family name Kosić. Her name coincides with the date of birth, when Saint Catherine, Alexandrian martyr, is celebrated.
At the age of 14 (in 1507), after the demise of her father Pero, Katarina manages to convince her mother to let her go to Kotor "inspired by God's Grace". In order to be able to feed herself and to find protection in the unknown town, she worked as a servant in the house of Aleksandar Buća ("Leso Bućinov, a councillor and judge in Kotor") and his wife Marina (born Bisanti).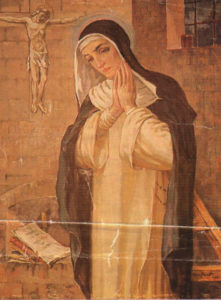 While serving to Buća family, Katarina, with all her dedication to work, showed particular affection to the destitute. After seven years of service, at the age of 21, she left Buća family and decided to become a nun. On the day of the Conversion of St. Paul the Apostle, on 25th January 1515, she joined the third order of Saint Dominic, when she took the vows of poverty, chastity and obedience and changed her baptized name to Osanna.
Miraculous powers were eventually added to Osanna's kindness and religiousness, i.e. on the occasion when she predicted an earthquake in Kotor (in 1563) or when she was saying prayers to fight plague. She is particularly remembered from the time of the attack launched on Kotor by Hayred'din Barbarossa, when he came to Kotor ramparts with 70 galleys and 30.000 sailors on 11th August 1539. On that occasion, Kotor Bishop Luka Bisanti personally asked Blessed Osanna to come before the people and encourage them to defend their town. "Blessed Osanna's persuasive words on the certainty of victory made great impact on the population to the extent that they all took up arms, including women and children", as quoted in the sources.
On 16th August 1539, Barbarossa retreated from Kotor Bay leaving the Town unconquered. In memory of this event, new (northern) Town Gate on the River Škurda was erected in 1540. As for Blessed Osanna, she, while still living, will become hugely venerated both in the Church and in the Town.
She died on 27th April 1565, at the age of 72, after spending fifty-two years of hard penance. Formal announcement of her cult started no sooner than in 1905, and ended in 1907. On 20th December 1927, Pope Pius XI allowed public and ecclesiastic veneration of the Blessed Osanna, by which this Montenegrin shepherdess, a Kotor maid and Dominican tertiary, became the first south-Slav to be pronounced a Catholic saint.
In 1930, big celebration was held in Kotor on the occasion of "the confirmation and approval of veneration of the Blessed Osanna, the first south Slavic female saint, by the Apostolic See", and on 24th June of the same year, Osanna's body was placed in a new sarcophagus in Saint Mary's Church. The sarcophagus is the work of Antun Augustinčić, an academic sculptor. The translation was performed in the presence of Kotor Bishop and a group of physicians who established that (365 years after the demise): "the Body was incorrupt, that her arms were flexible in the area of the joints, that her skin was largely intact, that her joints were not separated (both feet were missing), all the fingers were intact, including the nails …", which was an additional confirmation of her "beatitude and sanctity".
Blessed Osanna cult is very much present nowadays, besides Kotor and the entire Boka Kotorska Bay, also in Dalmatia. Many venerate her as a representative of ecumenism – movement for the unification of Eastern and Western Churches.