In the organization of the Municipal Public Institution "Muzeji Kotor", on Wednesday 1st August at 09:00 p.m., in the Gallery of Solidarity joint exhibition will be opened of drawings and paintings by Zoran Petrušić (Montenegro) and Igor Modrić (Croatia).
These two artists are tied by their friendship and contrasted poetics in their expressions and artistic creation.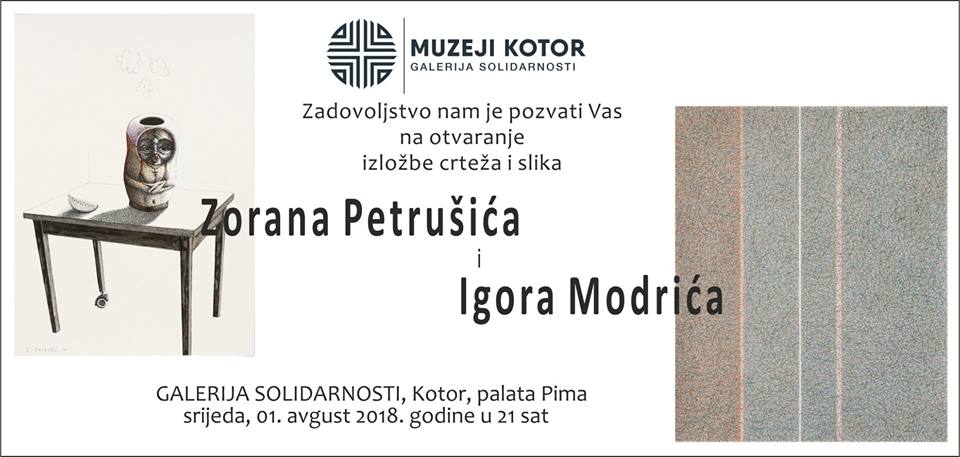 Zoran Petrušić
Zoran Petrušić is a graduated painter from Prof. Dragan Karadžić's class at Cetinje Fine Arts Academy. He won several important awards in the country and abroad. Here is a selection of some of his awards: Podgorica Fine Arts Salon (1998), Montenegrin Fine Arts Salon (2004), "13th November" (2009), "Kotor Visual Artists" (2014), Caravaggio – Art Expo Rome award (2017), Special prize in Rome (2017) and Art Expo Venezia award (2018).
Igor Modrić
Igor Modrić is a graduated painter from Zagreb Fine Arts Academy in Prof. Raoul Goldoni class. After his studies he was engaged as an associate during Master Workshops with professors Ivančić and Reiser. He practices painting and art pedagogy within primary, secondary and higher education system. He teaches in Zagreb School of Applied Art and Design. He has been having individual exhibitions since 1983.